Hey fellow readers,
I finally got convinced to read Illuminae, a book everyone has been talking about for the past months. Even though science-fiction is one of my favorite genres, I wasn't convinced this book was for me. This was, because when books get hyped up like this one, I tend to get easily disappointed. Well, let me tell you this. I AM NOT.
This book was written by:
Amie Kaufman
and
Jay Kristoff
.
The story (No spoilers)
A regular morning on which 2 teenagers break up turns into the most devastating afternoon one could imagine; the invasion and destruction of the whole planet.
There's an evacuating fleet which Ezra and Kady, who just broke up, luckily made. Without knowing who of their loved ones has made it out alive, a new journey begins for everyone from the destroyed planet.
Just when you think this is possibly the worst that could happen to anyone, things get worse. A deadly plague has broken out, which concludes in people mutating and eating each other.
The very smart device that's running the whole ship, called AI, also gets infected. Instead of doing what it's programmed for, which is protecting the ship and the people inside it, AI is now attacking and killing people.
It seems impossible to stop a murderous device with such intelligence, but Kady is not about to throw in the towel. With help from people inside the infected ship and other ships, she manages to hacks into the system. She finds many conversations, documents, military files, emails and medical reports from their leaders, who won't tell the truth. Kady, Ezra and a few others will do everything in their power to stop the AI from destroying more lives and to find out the truth behind everything that's happening.
My opinion
THIS. WAS. SO GOOD.
I defenitely found a new favorite book series; The Illuminae Files.
Illuminae is book 1 of the series and I HAVE to read the rest!
The pages in this book are crazy cool! Let me show you some examples: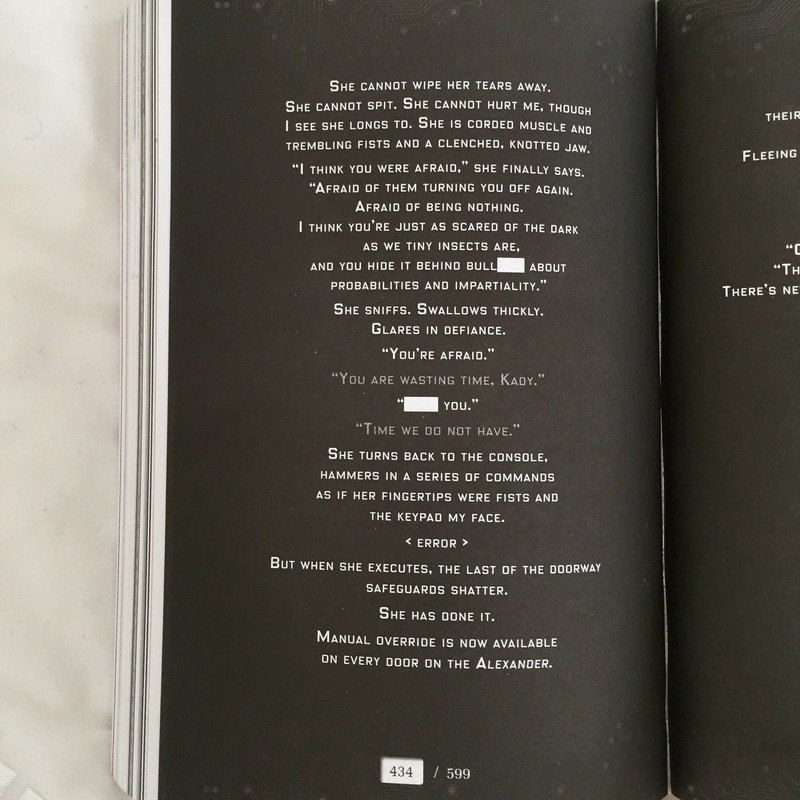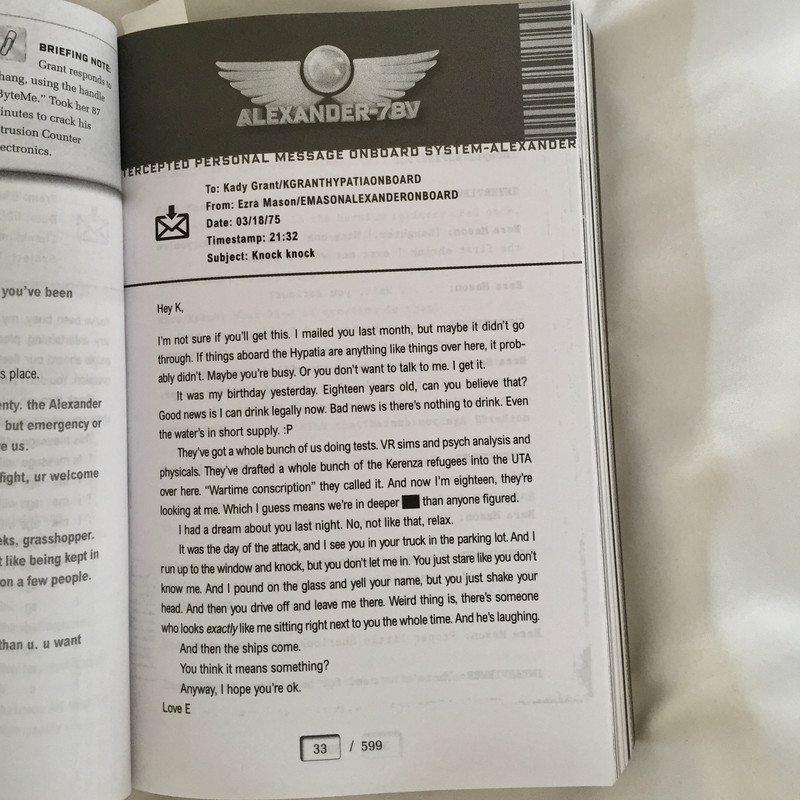 The original way of how the story is presented on the pages make it so much more fun to read! (I did not know reading could be even more fun?)
Conclusion
I give this book a 5 out of 5 stars. One of my new favorites!