Hi bookish people,
For Christmas I HAD to read the book
Let it snow
, by John Green, Maureen Johnson and Lauren Myracle. It's often described as the perfect YA book for the Christmas holidays and after reading it I have to agree on this!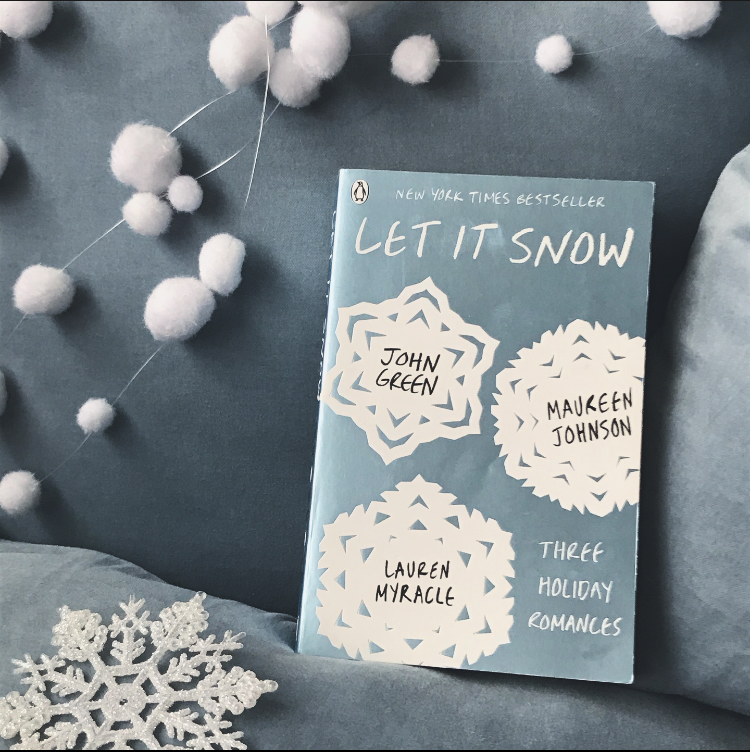 The story (no spoilers)
This book exists of 3 different stories, by 3 different writers that in the end collide. I loved this concept but wasn't sure if it would actually work out. Now I've read it I can honestly say that it does! To discuss the book I'd first like to take the 3 stories apart:

1. The Jubilee Express, by Maureen Johnson
Jubilee was supposed to meet her boyfriend for Christmas, but everything changed when her parents landed in jail. She is forced to take the train to her grandparents, but that train gets stuck in the snowstorm that influenced all 3 stories. Jubilee ends up celebrating Christmas with people she'd never met before, but will get to know very well.

2.A Cheertastic Christmas Miracle, by John Green
The 3 friends JP the Duke and Tobin spend their Christmas makeing their way to a Wafflehouse where their friend Keun works. He gave them the assignment to bring Twister asap because 14 cheerleaders are waiting out the snowstorm in the Wafflehouse. Turns out it's not so easy to get from one place to another when your town is snowed in, but at least the friends get to know each other better.

3.The Patron Saint of Pigs, by Lauren Myracle
Addie is having the worst Chrismas ever, because she and her boyfriend just broke up. But Addie has to stop feeling sorry for herself, because she has an important mission. Even though there's a snowstorm going on, she has to make sure that her friend Tegan gets her pet pig. And apart from that she wants to keep her job at Starbucks. But it turns out that Starbucks is a great place to meet new people and even angels.



My opinion
Eventually the 3 stories flow into 1 in a very clever way. And even though I didn't like the third part as much as I liked the first two, it perfectly fitted within the complete story.
I find it very special that 3 writers can come up with their own stories, use their own writing styles and still manage to make one coherent story. Overall I really enjoyed this book. It took me to winter wonderland!


Conclusion


I give this book 4 out of 5 stars, because it was such a lovely read. I wasn't sure how the stories would collide, but it happened in the most perfect way!