Hi cuties,
My favorite artist released a new studio album! (I can't express how excited I am, so here are just some random letters: JDSJDSKJJSJJKSJSJHFKW)
Luckily for me the mail came super fast and I got to listen to Ariana Grande her new album almost immediately after I woke up.
This is Ariana's second album in just 6 MONTHS. Isn't that crazy?
Here are my thoughts on each song:
1. Imagine
This song was already out as Ariana released it as the first promotional single for the album. It's so light and lovely. The whistle notes at the end of the song are CRAZY though. How does she do that????
2. Needy
Ariana has been teasing this song for a while and leaked a few snippets of it. Back then I knew I was gonna love it and I do!
You can hear lots of finger clicks and backing vocals singing "ooooohs"and "aaaahs" in this beautiful ballad. The violet-play at the ending when the music dies away to me is the perfect ending of this song.
3. NASA
Hit it up with NASA! The first uptempo number from this album.
The contrast between verses and chorus give the song a really nice variation. In the chorus the bass becomes more clearly, while the verses are a little more light.
4. Bloodline
This track starts of with Ariana's laugh, what better way to start a song? You can hear reggae/ dancehall influences in this track, which make it hard to sit still while listening. The trumpets give the musicality of the song that little extra, which I love.
5. Fake smile
This song starts of like a 60's record, but don't be fooled! It changes into a real pop song quite fast.
My heart broke a little, listening to this song. The lyrics are so sad and raw, but really beautifully written:
And my anxiety is breaking me, it kills me
I'm living in a world so fake, I lost touch of the real me
Had to take a look back, just to ask me if I'm still me
And would I still stand for this if they wanted to kill me?
6. Bad idea
An upbeat song with a very clear beat and electric guitar riffs.
I love the contrast in the song when the beat and Ariana's voice fade away during the bridge, only to hear a beautiful violin-play and one of Ariana's high notes.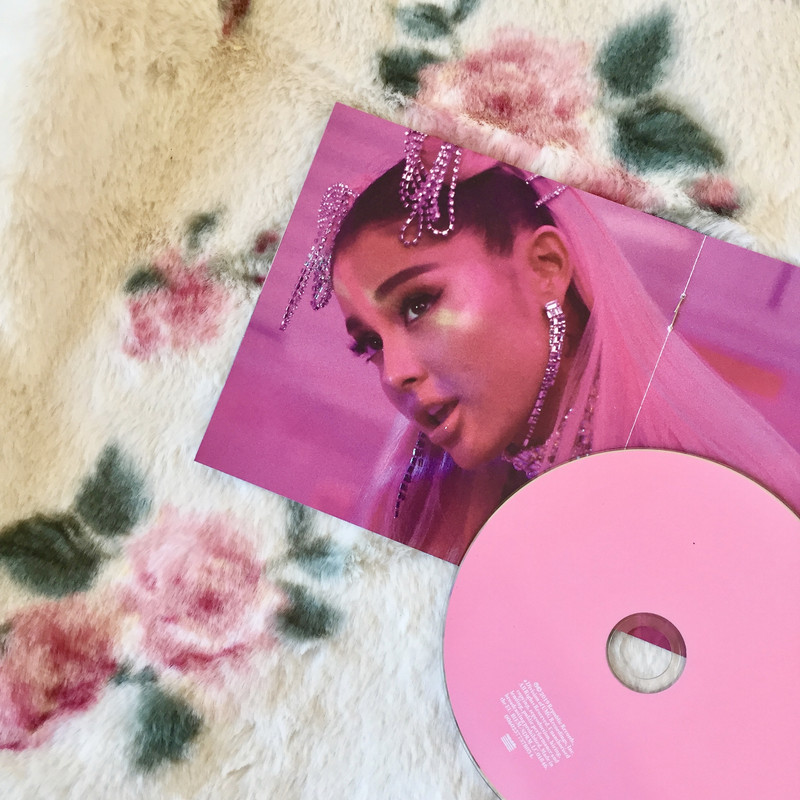 7. Make up
I think this track is best described as a laidback, feel good song. A real bop!
In the song she also gives Rihanna her Fenty Beauty makeup a shoutout:
"Highlight of my life, just like that Fenty Beauty kit.".
8. Ghostin'
The lyrics of this touching song seem to be about Mac Miller:
He just comes to visit me
When I'm dreaming every now and then"
The musicality of the song sounds quite similar to one of Mac's songs, called: 2009. Ghostin' is a beautiful love song, but with a lot of heartache. Be prepared to cry.
9. In my head
Ariana said she was a little anxious for the world to hear this song, because it's so personal. I'm glad she put it on the album though! The song starts of with a really sweet message from one of her best friends, Doug Middlebrook.
I really love this song!
10. 7 Rings
I've listened to this song multiple times a day since it came out and I'm still not tired of it! Ariana is showing even more variety with her rapping on this tune. It's one of my favorite songs at the moment!
11. Thank u, next
This song wasn't a surprise, as it's been out for a few weeks already and got a #1 spot. It's one of Ariana's most successful songs, even though it's not one of my favorites. I think it's the perfect song to describe the term "teenybopper".
12. Break up with your girlfriend, i'm bored
Right along with the release of her new album, Ariana also released the music video of this song.

This time ariana went for a real synthpop song. It has an divergent bridge in it with almost no musicality, but Ariana's voice and backing vocals. Really cool song!
I feel like Ariana creates a little distance between her younger fans with this album, but gets to grow with the older ones (like me).
I love to see how she's exploring and trying new things musically. This album is a BOP!♡