Hey sweeties,
Today I have a new book review for you. A BIG shoutout to the book:
All The Bright Places
, because it's the first book that almost made me cry. (And I read a lot so that's something special!) The book is written by
Jennifer Niven
. She also wrote one of my favorite books; Holding Up The Universe, so my expectations were set high!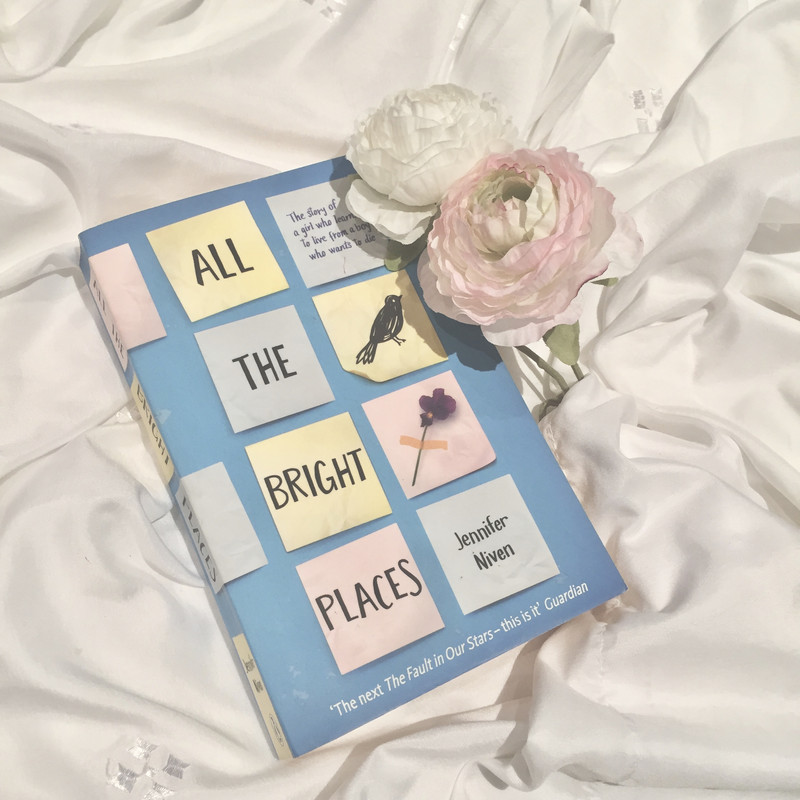 The story (No spoilers)
2 People meet on a rooftop at school. One wants to die and the other one wants to learn how to live. Theodore Finch constantly thinks of ways to kill himself, but gets stopped every time something wonderful happens.
Violet Markey realizes life is a gift, after losing her sister. She tries to make the best of it, but it turns out to be harder than she thought.
After they meet, they find reasons in and with each other to live for. All with the help of a school project. Their assignment is to find the 'national wonders' of their state. Together they go on a journey all around the state to see things from a different view.
Violet becomes happier and her future seems to get brighter. But Finch's world turns to the darkest shade of black. It's up to Violet to save the boy she has began to love.
My opinion
I loved this book! I only picked it up a year after I bought it, because I believed it was going to be one of those sugar sweet love stories. I WAS WRONG! This story really touched my heart. It's not one of those stories where it's love at first sight. They first hit a bumpy road and had to gain each others trust. Once they had it, they both fell hard. And that's something I found so beautiful about this story.
The fact that they both had to battle their own demons apart from their love story made the book more interesting to read.
Conclusion
I give this book a 4 out of 5 stars. The only reason I don't give it 5 stars, is because only my favorite books get 5 stars. This book is beautiful and definitely worth the read! It's adventurous, touching and you get to see the main characters grow throughout the story.