Hey guys,
This blog post is a little late, but that doesn't mean I'm less excited about it! I went to the movie premiere night of
Bohemian Rhapsody
with my little sister. I've been counting down since FOREVER until this day.
It's the closest I'll ever get to seeing "Freddie Mercury", because he passed away before I was born. Such a shame, I wish I could've seen him live!
Because it was the premiere we all got a booklet with facts about the movie, beautiful pictures and information. I'm saving this one for sure!
Anyways, the movie was A W E S O M E.
I must say as a fan of Freddie Mercury, I had high expectations of the movie. Gladly, my high expectations got fulfilled! As far as I know they got all the facts straight. Also, at the end of the movie they showed Queen their performance at Live Aid (which is by far one of the coolest things Queen have ever done) and they did so well! It was very similar to the real thing. You can see how the actor Rami Malek (who plays Freddie in the movie) took his time to observe the way Freddie moves. I saw him before in the movie Papillon and I think he's a great actor!
The dark side of Freddie also plays part in the movie. His drugs and alcohol abuse, him letting down his loved ones and him struggling with his nature. I like how hey worked out the story of him being/ not being gay. He never openly came out for it and in the movie he didn't either. Still there are clear signs in the movie, just as there were in his real life.
Another good thing about the movie is that it doesn't only show the glamorous part of Freddie his life. Apart from the dark side I just described, also the hours spent lonely are part of the movie.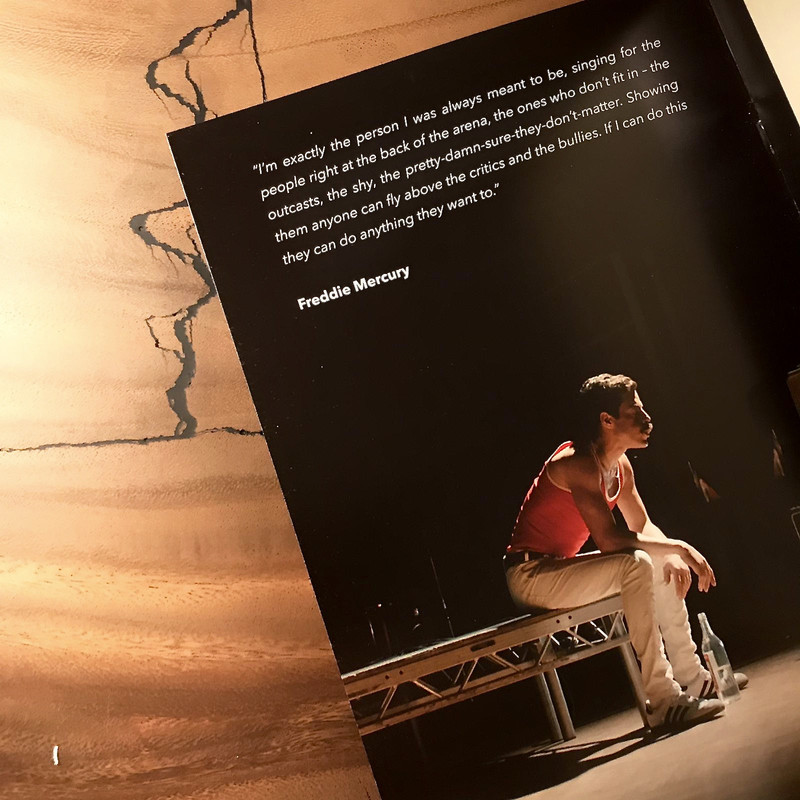 It's a fun movie which shows the growth of Freddie Mercury as a person and Queen as a band. It has lots of humor, great music, good actors and is quite sentimental. (I caught my sister crying.)
I had SO MUCH FUN. Even if you're not a Freddie/ Queen fan, you should give this movie a go. It's currently the highest frequented movie in many country's and I know the reason why! Freddie Mercury and Queen are legends and this movie adds some more proof to that statement.